Feb 23, 2017
Bridgestone Americas, Firestone Complete Auto Care Mark Second Year of Partnership with Maplewood High School in 2016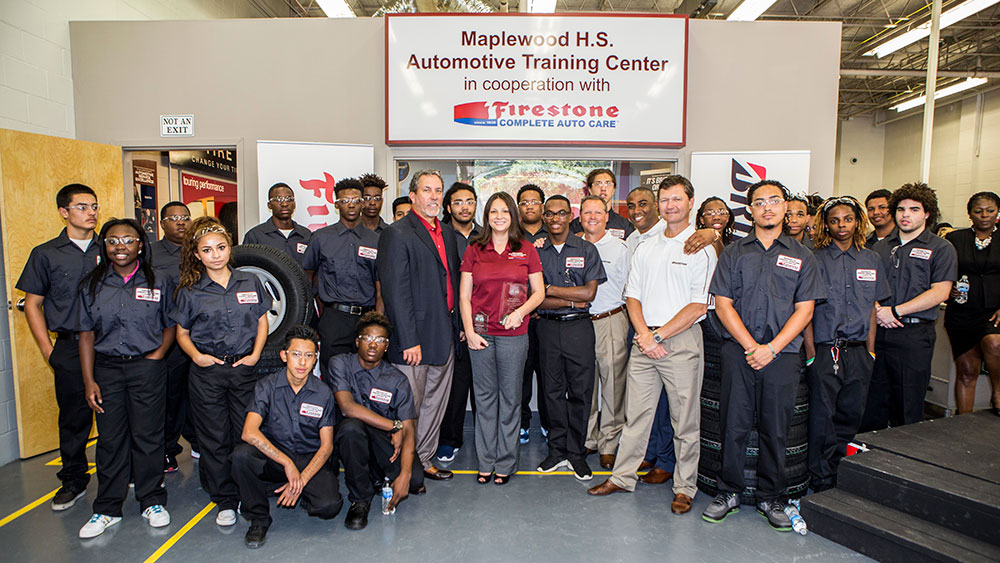 ​​Bridgestone Americas and Firestone Complete Auto Care (FCAC) had another successful year of partnership with Maplewood High School in 2016, marked by several key highlights. Bridgestone teamed up with Maplewood initially in August 2015 to support the school's automotive training program and transformed its shop with donated materials, fixtures, displays, and POS system upgrades to re-create the retail environment and store operations of a Firestone Complete Auto Care store.
Today, the facility allows students to gain hands-on experience in an operating automotive service center – the shop provides limited services on a gratis basis to the local community – as well as important retail and business acumen. Bridgestone Americas and FCAC continue to support the program through teammate volunteer hours, which includes providing classroom content and onsite training, Maplewood Advisory Board membership, and assistance in making the curriculum ASE-certified. Students have the opportunity to graduate as licensed technicians by gaining the necessary two years of experience through Maplewood's curriculum.
In addition to many hours of teammate time and other services since the launch of the partnership, Bridgestone has hired 11 Maplewood graduates as store teammates and two as interns at FCAC locations in the Nashville Region.
This collaboration has been recognized with multiple awards throughout the past year. On November 8, Bridgestone received the Henk Koning Exemplary Partnership Award from the National Career Academy Coalition. This award recognizes programs that exemplify a true working partnership between a school and its business partner. Click here to learn more.
During the sixth annual Academies of Nashville Awards, the company was honored with the 2016 Academy Partnership of the Year in Business, Marketing and Information Technology Award. Additionally, the Maplewood Academy of Entrepreneurship & Innovation, of which the automotive training center is a part, won the 2016 Academy of the Year; and instructor Twjuana Williams, who manages the center, received the 2016 Academy Teacher of the Year award. Twjuana was also selected as Teacher of the Year for the Tennessee Titans 2016 season.​​
The Maplewood program is another example of how Bridgestone is fulfilling its commitment to contribute to and actively participate in the neighborhoods where they do business.