Apr 21, 2016
Firestone Complete Auto Care teammates recycle 200 tires for Albuquerque neighbor in need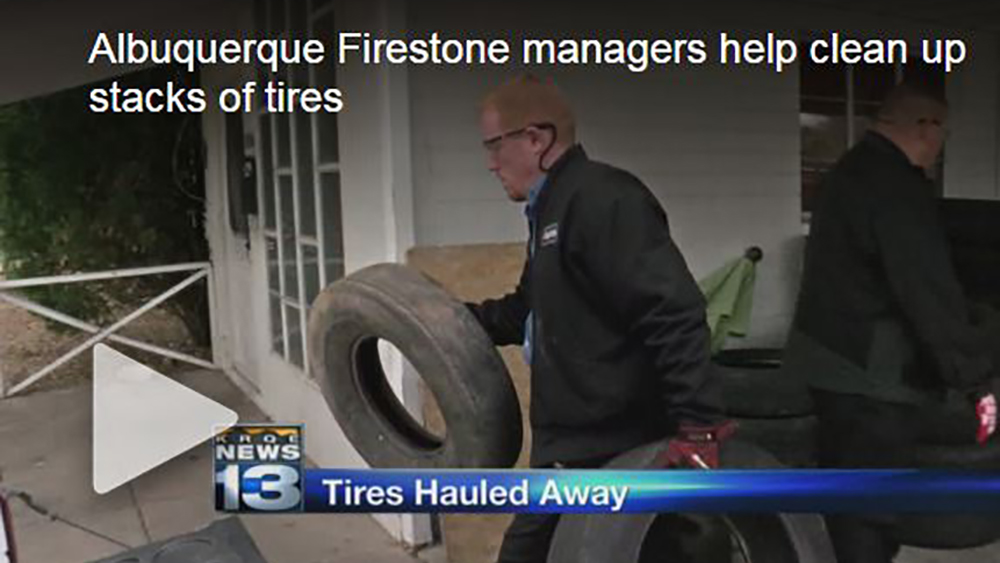 On a Monday night, Steve Ellis, Bridgetsone Retail Operations Area Manager in the Southwest Region, saw a story on KRQE News 13, the Albuquerque CBS affiliate; a local resident found herself with 200 unwanted tires after her renter moved out – and no way to pay for their removal. By Tuesday, Steve and a team of Firestone Complete Auto Care (FCAC) store managers had contacted the station and were on site to help. After one hour and 10 truckloads, the tires were removed and ready for recycling.
KQRE came back out to the home to shoot a follow-up segment and interviewed store manager Tommy Tran, who reinforced the company's commitment to the environment. Tommy, Steve and all of their teammates involved in the effort made a powerful statement about the care and concern FCAC has for the Albuquerque community. Proactive neighborhood outreach like this isn't just the right thing to do – it also helps Bridgestone build trust with its customers and establish BSRO locations as the neighborhood car care center of choice.
Click here to view the KQRE story.