Mar 25, 2016
Bridgestone's Aiken, SC tire plants receive safety award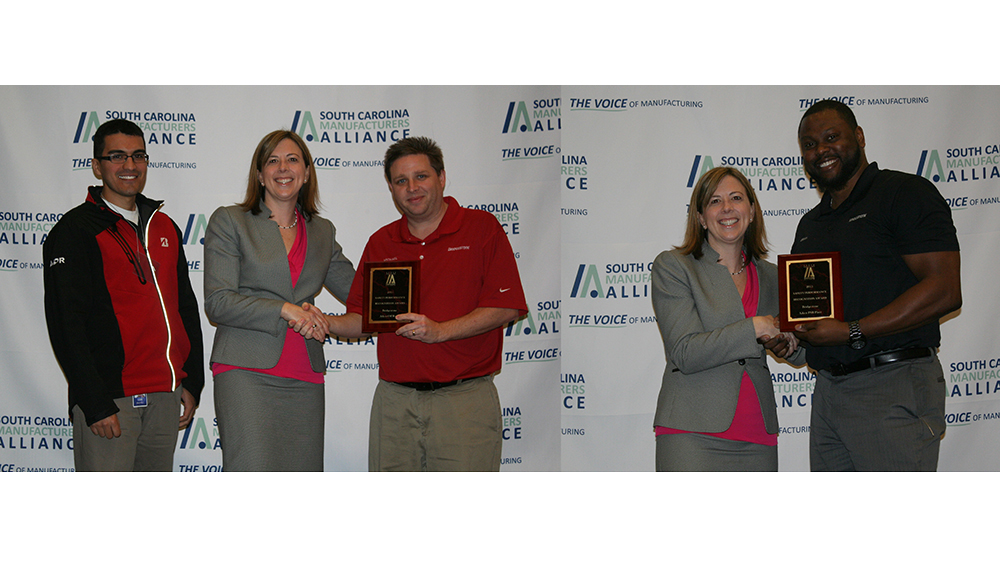 Pictured right: Richele Taylor, Director of the South Carolina Department of Labor, Licensing and Regulation presents Brian Rogers, Safety Specialist, Aiken PSR, with the safety award. Pictured left: Luis Bucheli, Safety Specialist, Aiken ORR and Michael Donato, Health & Safety Manager, Aiken ORR, receive the safety award from Richele Taylor.
The South Carolina Manufacturers Alliance recently recognized the Bridgestone Americas Tire Operations Aiken PSR and ORR plants for outstanding workplace safety accomplishments. Presented during the Alliance's Safety Summit on March 17, the safety award recognizes plants with a safety incident rate 50 percent or better than the industry average during 2015.
In addition, teammate Brian Rogers, Safety Specialist, Aiken PSR, presented at the summit. Brian spoke to attendees about the plant's ID Systems Powered Industrial Truck Fleet Management Program.
The Aiken PSR Plant has received numerous safety awards and recognitions during its 18 years of operations, including:
One million man hours without a lost-time accident (2015)
South Carolina Voluntary Protection Program Palmetto Star Site (since 2001)
Rubber Manufacturers Association Safety and Health Improvement Program Excellence Award
This is the first safety recognition for the Aiken ORR Plant, which opened in November 2014.

At Bridgestone, safety is a core business value. Teammates participate in routine pro-active safety activities that include identifying hidden dangers, behavioral safety observations and safety audits.