Oct 6, 2016
IT Teammates Make a Difference in the Community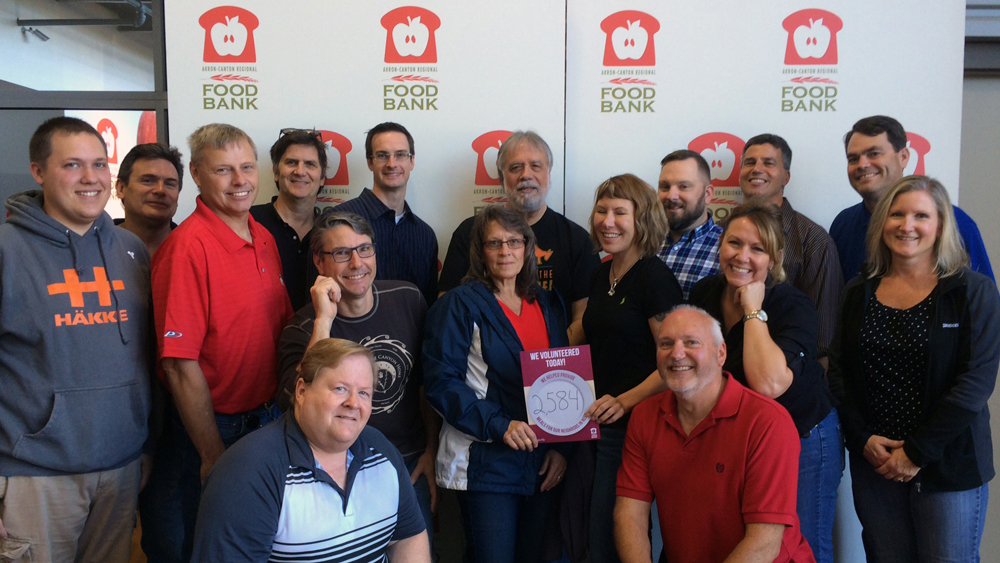 BSA IT continues to represent Bridgestone in the community by finding different ways to give back to the cities in which teammates and contractors live.
During the IT Town Hall circuit on September 26-29, teammates and leaders began a new initiative of incorporating a community service activity at each stop. Akron teammates spent Tuesday morning at the Akron-Canton Regional Food Bank. On Wednesday, Bloomingdale teammates volunteered at Feed My Starving Children. To wrap up the week, Carmel took a group of employees to the Wheeler Mission on Thursday. Nashville IT teammates will volunteer at Second Harvest on November 9. To sign up, contact Sonya Shockley.
The week of service kicked off at the Akron-Canton Regional Food Bank, where teammates relabeled and boxed 775 pounds of canned food, inspected 1,480 pounds of food and bottled and labeled 846 pounds of soap. In total, the effort accounted for 2,584 meals.
The volunteer opportunity at Feed My Starving Children put teammates in groups assigned to preparing MannaPack Rice to be shipped internationally to countries in need. Using ingredients of rice, soy, dry vegetables and vitamins, volunteers from Bridgestone and elsewhere prepared 118 boxes, covering 25,488 meals. The total was enough to feed 69 children for the year.
Thursday's volunteer opportunity took teammates to the Wheeler Mission in downtown Indianapolis, where they served lunch to the homeless. Volunteers served up sandwiches, salads, vegetables, fruit, dessert and water. Teammates also bussed and waited tables.
All three service opportunities were held before IT Town Hall meetings. Local teammates were joined by CSI leaders, including CIO Tim Walsh, at all three locations.
BSA IT wants to continue to be a strong contributor in the community. If teammates have suggestions for other volunteer opportunities BSA IT can take part in, please contact your local leaders.