Jun 13, 2016
Bridgestone Bloomington Plant receives Caterpillar "Gold Level"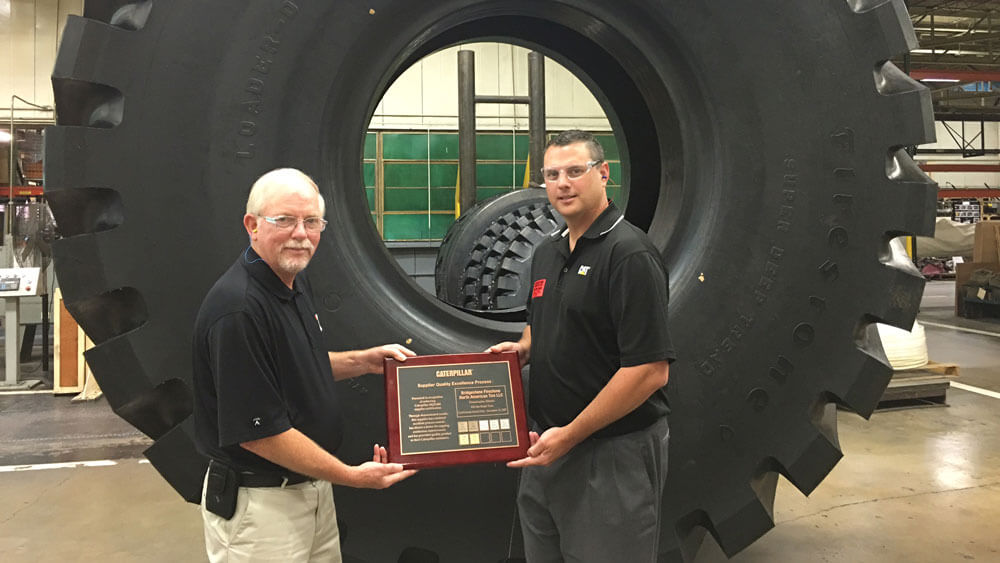 The Bridgestone Tire Operations Bloomington Plant recently attained the Caterpillar Inc. Supplier Quality Excellence Process (SQEP) Certification - Gold Level. This is the second year in a row the plant has received the Gold Level certification.
Representatives from Caterpillar presented the certification to the Bloomington Plant on June 3 during a ceremony with teammates and plant leadership. Following the ceremony the Caterpillar visitors were treated to a plant tour led by Bridgestone teammates.
The certification demonstrates Bridgestone's strong values and ethical principles in conducting business, as well as our commitment to collaborate with Caterpillar to implement a culture for "zero-defects" across the supply chain. Recognition levels of Bronze, Silver, Gold and Platinum, reflected in order of increasing difficulty, distinguish outstanding supplier quality performance. Committed to delivering world-class products, the company currently is working to achieve Platinum level.
Caterpillar's SQEP certification was created to recognize a supplier's dedication to providing superior quality, and only is awarded to suppliers who demonstrate world-class performance on an ongoing basis. Each year, suppliers are evaluated with increasingly strict criteria for distinguishing outstanding supplier quality, exceptional service and delivery performance.